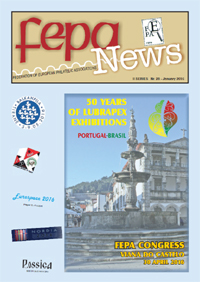 9 March 2016: Number 28 of FEPA News, the bi-annual journal of the European Philatelic Federation, was released last month with a 12-page report on NOTOS 2015. Click here to download and enjoy:
http://www.hps.gr/pdf/FepaNews28_NOTOS_2015.pdf (size: 1.2 MB).

30 January 2016: The Hellenic Philotelic Society is mourning for the loss of its President George Sparis.
14 January 2016: 

Philotelia no. 695 was released yesterday. It is practically a special edition featuring the whole NOTOS 2015 story, comprehensive awards list, lots of photographs and much more. The 64-page journal can be downloaded from https://hps.gr/pdf/695_low.pdf (low resolution, size 2,8MB).
To order your printed copy, just send to notos2015@hps.gr your street address. The journal will be sent to you free of charge.
25 December 2015: The Balance Sheet (https://hps.gr/notos2015/balance-sheet/) was prepared by the Treasurer and approved by the OC on 23 December 2015. It will also be published in the upcoming numbers of FEPA News and Philotelia.
11 December 2015: The Organizing Committee honoured our 21 donors and 53 volunteers yesterday, Thursday 10 December, 7:00 pm, at the Hellenic Philotelic Society premises. The evening was dedicated to those who made NOTOS 2015 possible with their contribution in either cash, materials or services.
Images uploaded at: https://hps.gr/notos2015/donors-and-volunteers-are-honoured/
28 November 2015: "NOTOS 2015 proved to be a milestone in the organization of future philatelic exhibitions for many reasons…" and "…the quality of all aspects of the exhibition exceeded the international standards". That and much more in today's post in the FEPA website: http://fepanews.com/news/%20lesson%20NOTOS
22 November 2015: Videos and images from the exhibition were uploaded. See the new entry (IMAGES) on the website menu.
15 November 2015: At 6.00 pm today the doors closed and the dismounting process was under way. Thank you all for your participation and your support.
SEE YOU AGAIN …VERY SOON!
14 November 2015: The awards were announced: https://hps.gr/notos2015/palmares/
5 November 2015: Photos from yesterday's Grand Opening of NOTOS 2015 Collectables (4-10 November): https://hps.gr/notos2015/images/
4 November 2015: Τoday, the Hellenic Post (ELTA) placed in circulation the two special stamps and the miniature sheet for NOTOS 2015.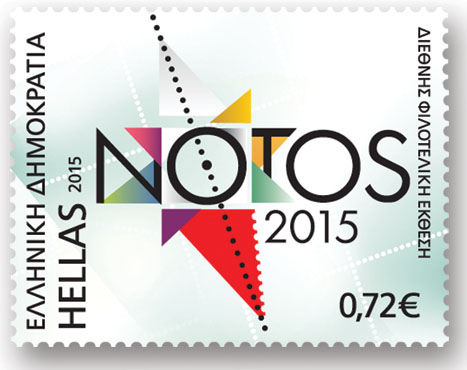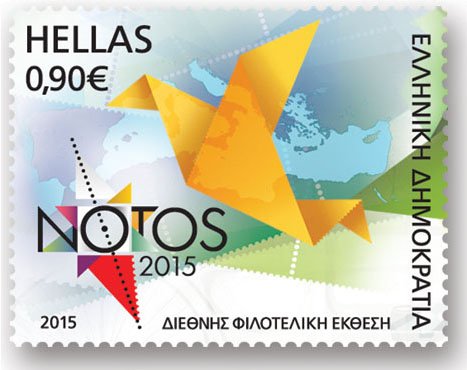 Better images at: https://hps.gr/notos2015/special-stamps/
2 November 2015: The first photos of the preparations at the exhibition centre were uploaded: https://hps.gr/notos2015/images/
29 October 2015: Τhe Hellenic Post (ELTA) announced today the special cancellations for NOTOS 2015: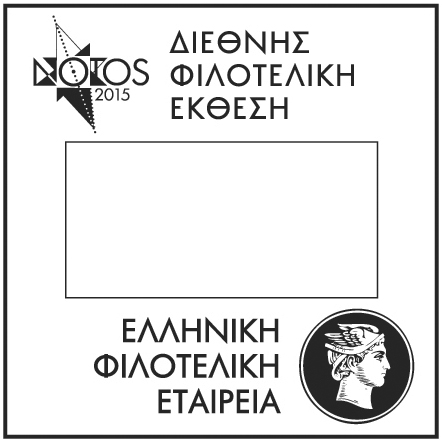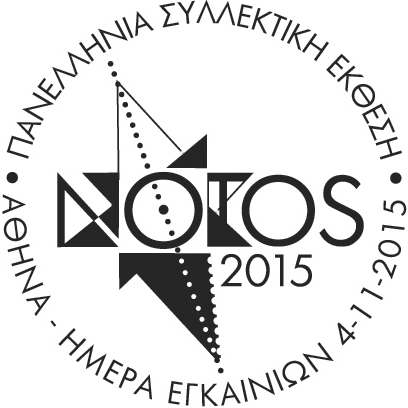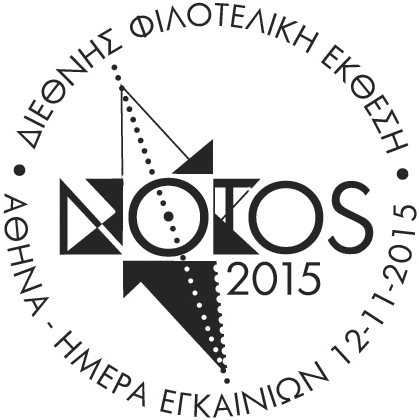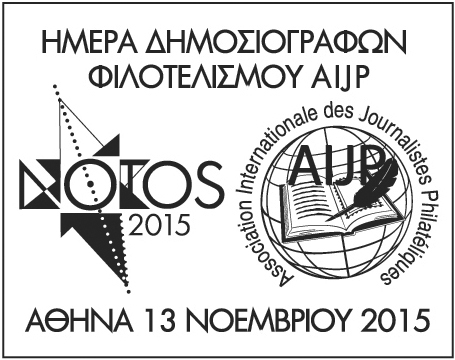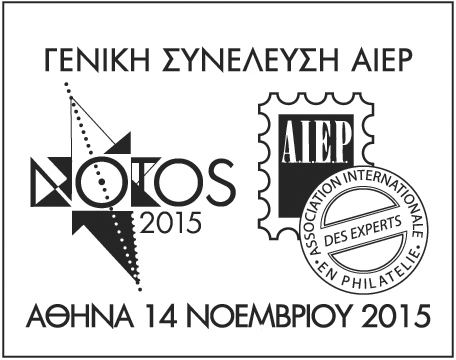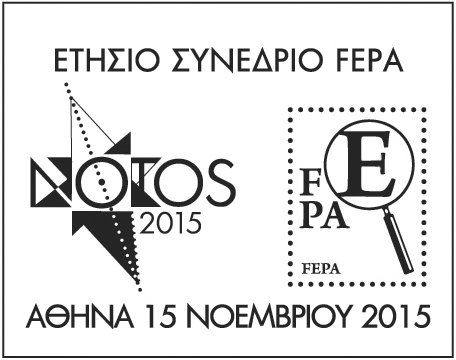 For better images please visit: https://hps.gr/notos2015/special-cancellations/
18 October 2015: "Collecting Matchbox": The SOFIA Foundation (http://www.sofia-foundation.gr) will exhibit hundreds of model cars, boxes, cases, books, catalogs, advertisements, displays and so much more, a complete picture with examples from all periods of the Matchbox, the beloved, timeless and classic brand of children toys. Just a small sample of the great Toy Collection of the SOFIA Foundation.
7 October 2015: The Historical Archive National Bank of Greece will participate in NOTOS 2015 with an impressive exhibit for Aspiotis Printers, leader of the field for practically the whole of the 20th century. The exhibit will occupy a 60 sq m space and will primarily specialize on stages of stamp production (artists' designs, essays, proofs etc.), but it will also comprise samples of a large variety of other Aspiotis products, as well as samples of other collections of the National Bank.
2 October 2015: The Hellenic Post is preparing two postage stamps, one miniature sheet and a series of special commemorative cancellations dedicated to NOTOS 2015. They will be released during the exhibition and will be available at the post office which will be installed inside the exhibition hall.
21 August 2015: Special Prizes already confirmed were uploaded today at https://hps.gr/notos2015/awards/. They are offered courtesy of their respective donors and will be awarded by the International Jury to certain exhibits in appreciation of outstanding philatelic merit or exceptional material.
9 July 2015: The Philatelic Literature Supplement with useful details on every single handbook, catalogue or periodical that participates in NOTOS 2015 was uploaded today. Check it out at "The exhibits" menu of the website or just follow the link: https://hps.gr/notos2015/philatelic-literature-supplement/
3 July 2015: Alfred Kunz, the current FEPA Treasurer and appointed FEPA Consultant in NOTOS 2015, concluded today his three-day visit to Athens. Accompanied by George Sparis, OC President, and other OC members, he was updated on all aspects of the preparation of the exhibition, inspected the exhibition grounds and had the opportunity to stay at the Amalia Hotel Athens, the official hotel of the exhibition. Yesterday, at 7.30 pm, at the Hellenic Philotelic Society premises, the FEPA patronage agreement was signed between the three parties involved; FEPA, the Hellenic Philatelic Federation (the FEPA member) and the Hellenic Philotelic Society (NOTOS 2015 organizers). Images are uploaded at hps.gr/notos2015/images.
2 July 2015: Complete exhibits lists by class, by country and per exhibitor were just uploaded. The names of NOTOS 2015 international Jury and the Expert Team were also uploaded today.
30 June 2015: Today is the final day for submitting entry forms in order to participate in Philatelic Literature Classes L1-L4. The entry form is located at hps.gr/notos2015/entry-form/ and it can only be submitted on-line.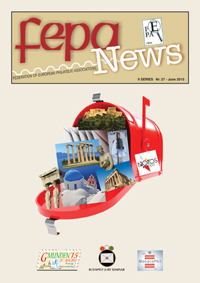 23 June 2015: The front cover of FEPA News no. 27, which was just released, is full of Greece and NOTOS 2015, dedicated to the November exhibition and the annual FEPA Congress.
Click here to see the front cover.
31 May 2015: The OC proudly confirms that three world class exhibits accepted the invitation and will participate in NOTOS 2015 Court of Honour in November: (a) Joseph Hackmey's "Classic France", Grand Prix d'Exposition in Israel 2008, (b) Norbert Frenes' "Postal history of Greece from 1861 to 1885″, Grand Prix d'Exposition in WIPA 2000, and (c) Stavros Andreadis', "Kassandra – Large Hermes heads of Greece", Grand Prix candidate in Portugal 2010.
9 May 2015: NOTOS 2015 will be in London 2015 Europhilex next week. OC President George Sparis and General Commissioner Costas Chazapis will be visiting the exhibition, which will take place at the Business Design Centre, Islington, 13-16 May. If you happen to be in London, give them the opportunity to meet you and update you on NOTOS 2015.
23 April 2015: Entry forms were closed a few days ago. 1116 frames in competition were applied for and Philatelic Literature entries surpassed the 100 mark. The OC decided to accommodate 1200 frames in total, including the invited exhibits. Total exhibition space will reach 3500 m2. Apart from the invited countries, exhibitors from outside NOTOS will also take part, so expected participation is 36 countries.
27 March 2015: This is the final reminder for entry forms before the March 31st deadline. It is your last opportunity to register your application for participation in NOTOS 2015, if you have not already done so. The entry form is located at the exhibition website hps.gr/notos2015/entry-form/ and it can only be submitted on-line.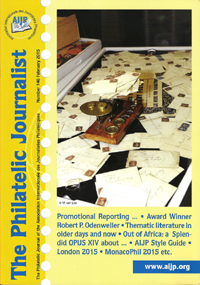 13 March 2015: The Philatelic Journalist on NOTOS 2015. Number 46 of the quarterly journal of the Association Internationale des Journalistes Philatéliques (AIJP) is pointing out to certain IREX highlights, in particular to the ones with reference to Philatelic Literature exhibits.
Click here to read or download the pdf file.
3 March 2015: The Jury Presidium is finalized: José Ramón Moreno (Honorary President), Anthony Virvilis (President), Mario Mentaschi (Vice President) and Jean-Pierre Magne (Secretary). The remaining members of the Jury will be announced at the end of May.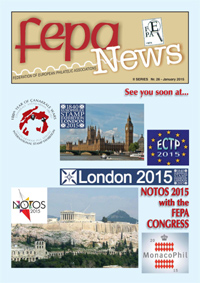 19 February 2015: Read all about NOTOS 2015 International Philatelic Exhibition and the FEPA Congress 2015 in Athens in the latest FEPA News no. 26, the official journal of the European Philatelic Federation.
Click here to read or download the pdf file.
3 February 2015: A list of five recommended hotels were added alongside the official hotel of the exhibition. Our visitors are asked to visit https://hps.gr/notos2015/visitors/, in order to contact the hotels directly and reserve their rooms.
23 January 2015: Amalia Hotel Athens (http://www.amaliahotelathens.gr) was selected as the official hotel of the exhibition, where the Jury members, National Commissioners and other officials will be staying. That same hotel will also accommodate both the FEPA Congress 2015 and the AIEP General Meeting 2015 which will take place during NOTOS 2015.
14 January 2015: The official presentation of NOTOS 2015 logo will take place on Thursday 29 January, 7:00 pm, at the HPS premises, 57 Academias str., Athens.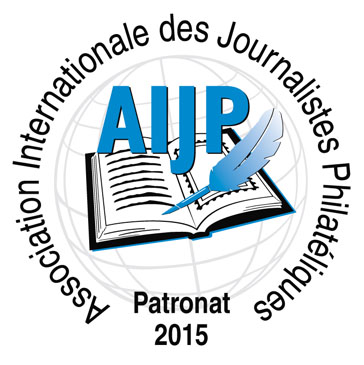 31 December 2014: The International Association of Philatelic Journalists (Association Internationale des Journalistes Philatéliques, AIJP, www.aijp.org) honors NOTOS 2015 by granting its patronage. Τhe exhibition is open to and will welcome Philatelic Literature exhibitors from all over the world with no restriction on the subject.

30 December 2014: NOTOS 2015 Organizing Committee wishes you a Happy and Prosperous New Year and hopes to see you all in Athens next November!

15 December 2014: The AIEP (Association Internationale des Experts en Philatélie) announced that next year's General Meeting will take place in Athens during NOTOS 2015. Date and time was confirmed: Saturday 14 November 2015, 14:00-17:00 hrs. The General Meeting venue TBA.
16 November 2014: Exhibitors wishing to participate in NOTOS 2015 are asked to visit the web page hps.gr/notos2015/entry-form/ and submit their entry form. Entry forms are accepted only if submitted on-line from within this webpage.
12 November 2014: It is exactly one year from now until the grand opening of NOTOS 2015 which will take place on 12 November 2015! Most of the National Commissioners have already been appointed by their respective Federations and the rest are expected during the next few days. The Entry Form for the exhibitors will then be uploaded.
27 October 2014: The date of next year's FEPA Congress in Athens was just confirmed: Sunday 15 November 2015, 9.00-13.00. Congress venue TBA.
7 October 2014: NOTOS 2015 Individual Regulations (IREX) were uploaded and the invitations to the Federations for the appointment of National Commissioners were just mailed. These and much more in the Newsletter no. 2 which was aired today.

13 September 2014: FEPA Congress 2014, convened today at Lugano, Switzerland, granted FEPA patronage to NOTOS 2015.
The Congress also approved the Greek request for the FEPA Congress 2015 to be held in Athens during the exhibition.
25 August 2014: Newsletter no. 1 with the official announcement of NOTOS 2015 was sent out today. The exhibition website (hps.gr/notos2015) was launched as well.

7 August 2014: George Sparis, President of the OC, met with Mr. Angelos Stoumbis, Director of the Philatelic Bureau, and Mr. Moses Constantinis, Special Advisor, both of the Hellenic Post (ELTA), in order to announce NOTOS 2015 and secure the exhibition frames.
16 July 2014: The first meeting between George Sparis and Lorentzos Chazapis on behalf of the OC and Mr. Andreas Pahatouridis, Mayor of Peristeri, was concluded. It seems that the City Council will grant their permission to the OC to stage NOTOS 2015 at the Peristeri Exhibition Centre in November 2015.
9 November 2013: "Hellas-Cyprus 2013" was concluded yesterday. Meanwhile the Athens School of Fine Arts venue proved a lost case, valuable time was lost, so NOTOS 2014 was cancelled. The OC is seeking another suitable hall to stage the exhibition, this time as NOTOS 2015.
22 May 2013: On exactly NOTOS first birthday, a Hellenic Philotelic Society Administrative Council approved the budget and appointed the Organizing Committee of NOTOS 2014 scheduled to be held at the grounds of the Athens School of Fine Arts in November 2014: George Sparis (President), Ioakim Chalvatzidopoulos, Costas Chazapis, Lorentzos Chazapis, Haris Chrysostomou, Nikos Mallouchos, Anthony Manoloudis and Andreas Nikolaidis (members). It is exactly the same OC that is currently working towards the National Philatelic Exhibition "Hellas-Cyprus 2013" which will act as a prelude to the upcoming bigger international.
22 May 2012: Anthony Virvilis, George Sparis and Costas Chazapis on behalf of the Hellenic Philotelic Society met with Pantelis Leoussis, President of the Hellenic Philatelic Federation, and announced the HPS' intention to set up a Regional Exhibition in Greece. NOTOS has just been born, though not christened yet.