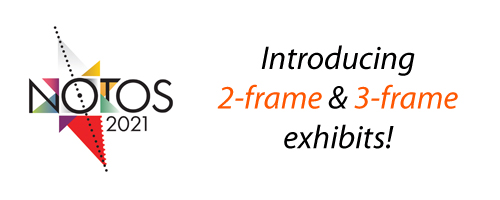 We are delighted to announce that NOTOS 2021 will accept 2-frame and 3-frame exhibits!
It has been almost twenty years since we first saw One-Frame exhibits in a major exhibition. It was Amphilex 2002, in Amsterdam, another FEPA patronage event, where the One-Frame exhibits were placed in an experimental class.
For most of the exhibitors the 16-page limit is quite convenient, but for others who continue to improve their exhibits year in, year out, it turns out to be a suffocating limit. However, given their narrow scope, these exhibits will never stand a chance to spread themselves into five frames.
Our proposal to accept 2-frame and 3-frame exhibits, as an experiment in the upcoming NOTOS 2021, was welcome by both the FEPA Consultant and the FIP Liaison Officer. The exhibits are going to be judged exactly as if they were One-Frame exhibits, in the sense that their scope and the availability of material guarantee they can never be presented in five frames.
We are continuously looking for innovations in NOTOS 2021, while at the same time we are committed to work for the benefit of the exhibitors.
The amended IREX version 3 (January 2021) is already on line here.