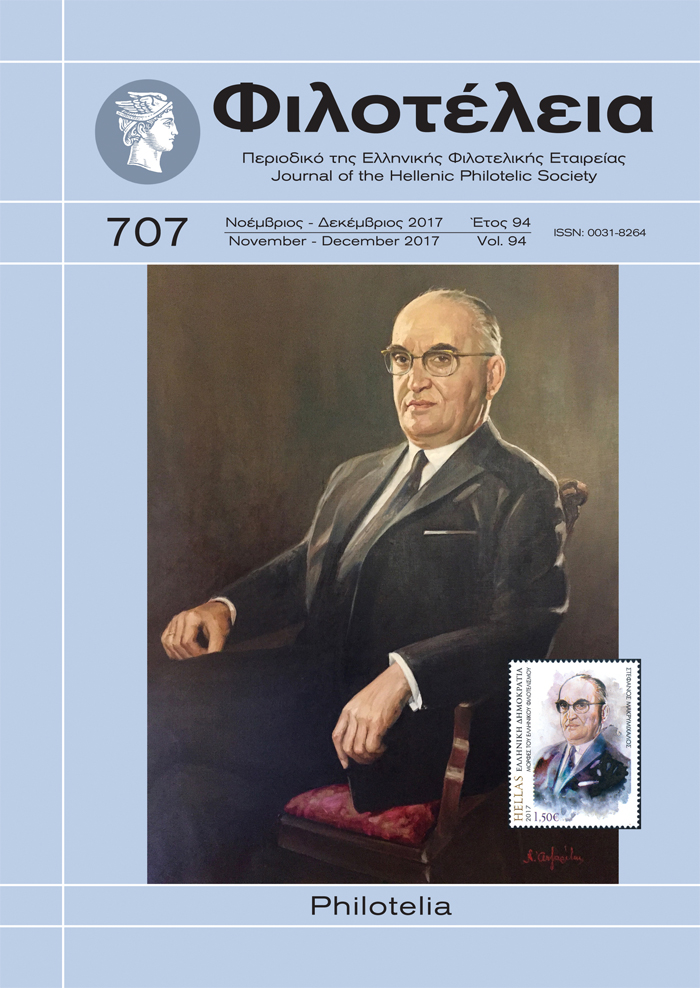 It was Monday evening in the main hall of the Old Parliament House. George Macrymichalos was receiving from the hands of the Hellenic Post President, Ms. Efrosini Stavraki, the plaque with the embedded stamp, the one dedicated to his late grandfather. A little earlier, a short video with the presentation of the set of "Prominent Greek Philatelists" had just concluded, during which, among other documents, we had the opportunity to see the young Stephanos' philatelic journalist's identity, as well as one of the postcards he sent abroad to announce the publication of the first issue of Philotelia.
By the time all the handshakes, photographs and smiles had concluded, our thoughts travelled back and forth to various moments in the history of the Society and the journal; a long history indeed, which we owe largely to this decisive man, this dreamer, who never claimed awards or medals for himself, nor did he seek personal publicity or posthumous fame. Instead, he laboured hard to leave behind a work that was well-cared for, for many generations to enjoy. Emotion and feelings of joy lingered amongst the small group of HPS members in the audience. Perhaps it was the sweet illusion of participating in a collective accomplishment.
Today, 94 years and 707 numbers later, the man behind Philotelia sits comfortably in his armchair on the cover of his own journal. It was about time. Special thanks are due to the Philatelic Bureau of the Hellenic Post for the great honour and the opportunity they have given us.