PHILOTELIA Vol. 84 (2007)
The bimonthly HPS journal is distributed gratis to the members of the Society
---
NOVEMBER – DECEMBER 2007
325 The Hellenic Philatelic Society Medal
328 XIV Balkanfila, by G. Sparis
336 Air-dropped propaganda leaflets, by S. Bosovitch (7/18)
343 "ΕΛΛΗΝΙΚΗ ΔΙΟΙΚΗΣΙΣ" overprint. The most rare errors, by B. T. Doumas (2/2)
349 Ten letters to Owen Fearnley (1912-1924) (3/3)
354 Philatelic news
357 Minutes of the 3rd Meeting of the Balkanfila Workgroup
361 Quantities released of the 1940 National Youth Organization (EON) stamps, by C. Chazapis
366 New issues: (a) Historical sports clubs, (b) Greece-Armenia joint issue
367 New translation of the Bible in Icelandic, by T.P.
368 The 1856 preadhesive cancellations, by J. Daes
370 Commemorative cancellations of 2007 – Slogan cancellations of 2007
372 HPS: New members
373 Cyprus philatelic news
375 Volume 2007 index
379 New books: (a) K. Fotiou, The 1940-1941 epic, by C.C., (b) (ed. T. Karatzas), A. Karamitsos Hellas Coins, by A.V., (c) T. Papaioannou, Stamp and history, by A.V., (d) Corinphila – Η. Köhler, "Edition d'or" series, by A.V.
---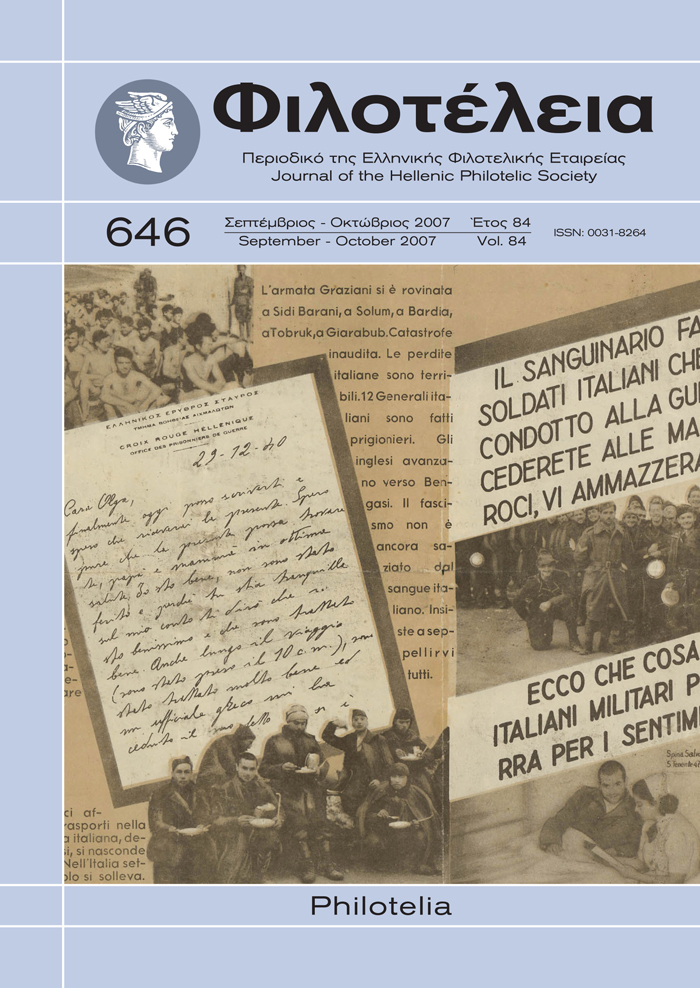 SEPTEMBER – OCTOBER 2007
260 A memorable event, by the Observer
265 Ten letters to Owen Fearnley (1912-1924) (2/3)
271 The control figures and the printing of the first Greek stamp, by N. Zafeirakopoulos (4/4)
277 Large Hermes heads Paris printing. The exact quantities ordered and shipped to Athens, by L. Fanchini
287 The transmission of correspondence in Eastern Mediterranean (14th-19th c.), by (Ms.) H. Aggelomatis-Tsougarakis (3/3)
297 Philatelic news
300 "ΕΛΛΗΝΙΚΗ ΔΙΟΙΚΗΣΙΣ" overprint. The most rare errors, by B. T. Doumas (1/2)
306 New issues: Anniversaries-Events (II)
307 Thematic Philatelist's corner: The choice of thematic material, by P. Leoussis
311 Air-dropped propaganda leaflets, by S. Bosovitch (6/18)
---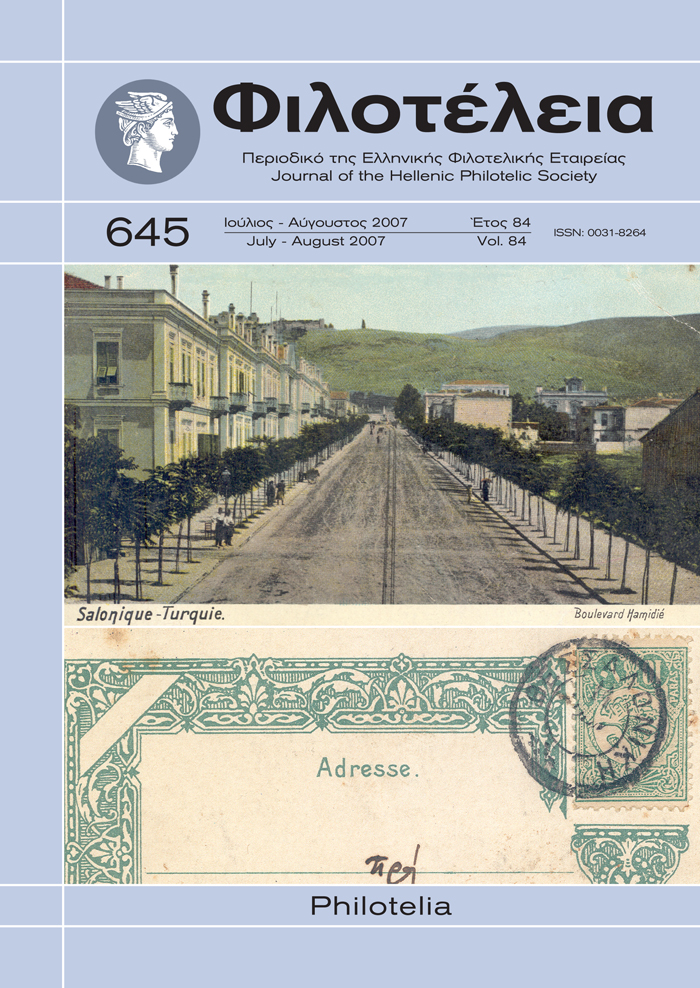 JULY – AUGUST 2007
198 Kastoria, March 1944, by A. Galinos
199 Ten letters to Owen Fearnley (1912-1924) (1/3)
209 The control figures and the printing of the first Greek stamp, by N. Zafeirakopoulos (3/4)
216 Thematic Philatelist's corner: The choice of thematic material, by P. Leoussis
219 The T.T.T. employees' anti-tuberculosis fund supplementary rate, by J. Daes
220 Air-dropped propaganda leaflets, by S. Bosovitch (5/18)
232 "St. Petersburg 2007" World Stamp Exhibition, by G. Sparis
238 New books: M. Tsironis, The 1906 Olympic issue, by A.V.
240 Letters to Philotelia: PROOF and ESSAY
241 The transmission of correspondence in Eastern Mediterranean (14th-19th c.), by (Ms.) H. Aggelomatis-Tsougarakis (2/3)
249 The red postmark "AVLON", by A. Kambourakis
250 Philatelic news
252 Thessaloniki 1912: Mail bearing Turkish stamps, cancelled with a Greek postmark, by A. Papadopoulos
---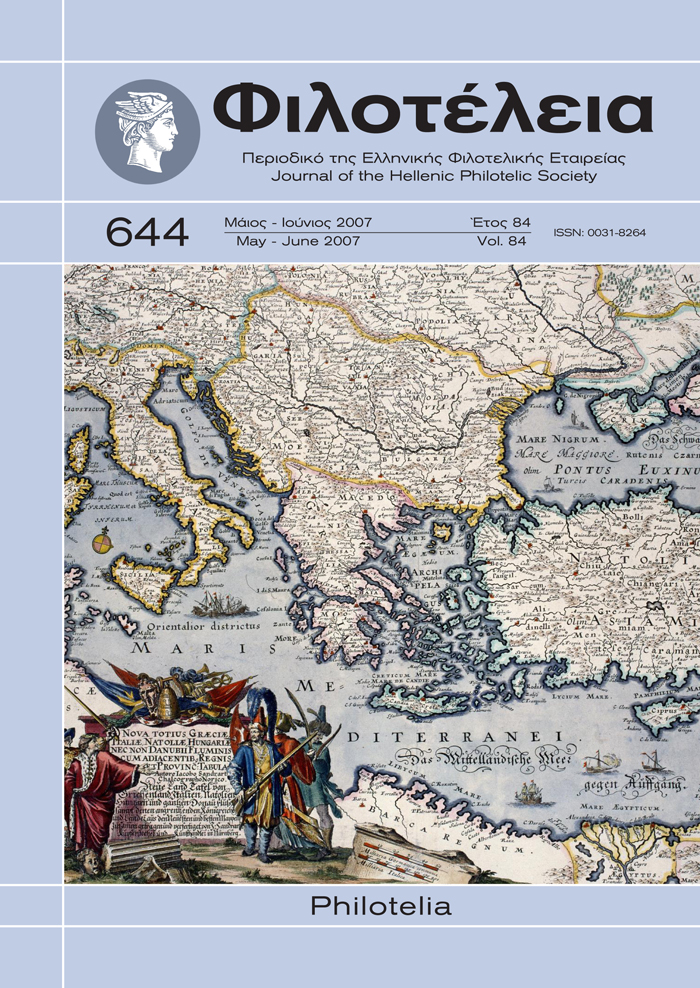 MAY – JUNE 2007
132 A hard discussion on the 1868 40 lepta, by N. Zafeirakopoulos
133 Definitions of the terms PROOF and ESSAY and their application on the large Hermes head stamps, by L. Fanchini
145 The postal cancellations in use of the Athens post office, from December 1833 to December 1834, by J. Daes
146 The transmission of correspondence in Eastern Mediterranean (14th-19th c.), by (Ms.) E. Aggelomatis-Tsougarakis (1/3)
154 The control figures and the printing of the first Greek stamp, by N. Zafeirakopoulos (2/4)
162 Nikos Lahanos, by S. Bosovitch
162 Angelos Hatzigeorgiou, by G. Goufas
163 Air-dropped propaganda leaflets, by S. Bosovitch (4/18)
174 Cyprus philatelic news
175 The establishment of the post office in Limni, Euboea, by G. Sparis (2/2)
183 Philatelic news
186 New issues: (a) Europa 2007, (b) Zodiac, (c) Greece-Spain joint issue "Asclepius"
189 Ottoman cancellation of Kalamoti, Chios, by G. Thomareis
190 Scientific convention in Limni, Euboea, by the Observer
---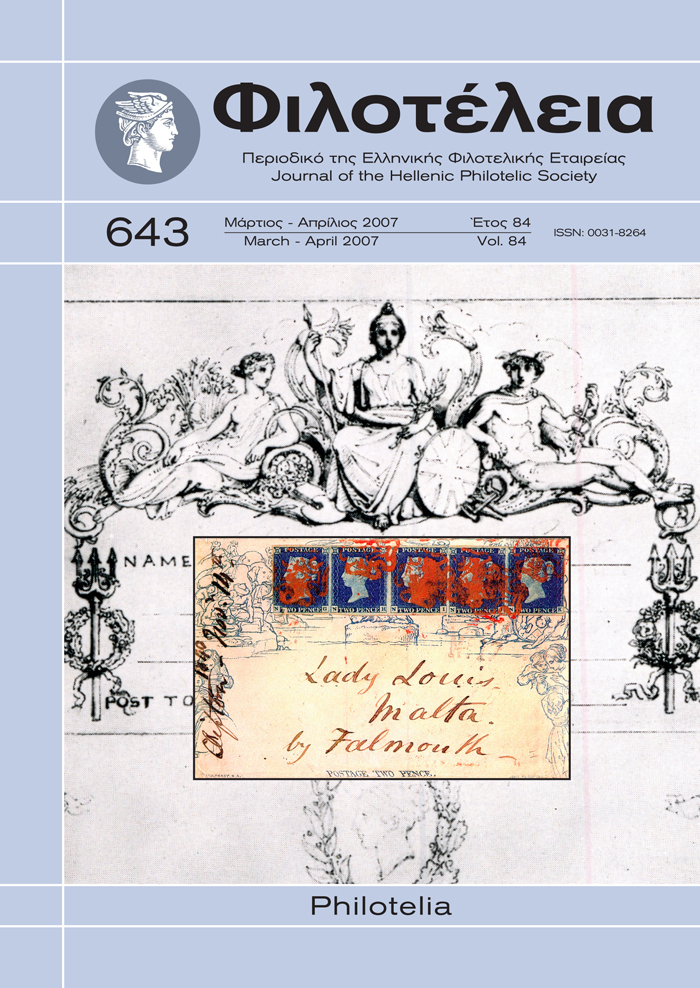 MARCH – APRIL 2007
68 A hard discussion on the 1868 40 lepta, by N. Zafeirakopoulos
72 The case of the Thessaloniki French post office postmark, by C. Dinas
76 The establishment of the post office in Limni, Euboea, by G. Sparis (1/2)
83 Thematic Philatelist's corner: The choice of thematic material, by P. Leoussis
87 Philatelic news
90 John N. Gougoulas (1925-2007)
91 New issues: Personal stamp
92 New issues: Anniversaries-Events
94 Concise tables of regular correspondence postal rates and supplementary rates from 1.10.1861 to 1.1.2001, by J. Daes (4/4)
100 Kanaris Constantinis' reports on partisan stamps
106 The Mulready covers, by P. Leoussis
118 Returned mail during World War II, by C. Chazapis
---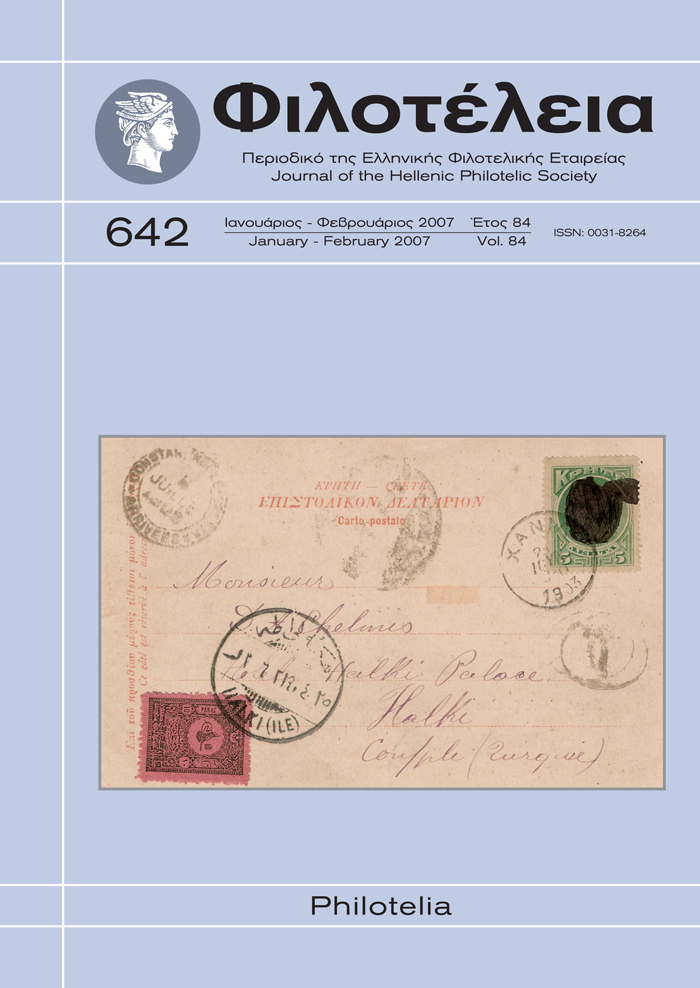 JANUARY – FEBRUARY 2007
6 The war of stamps, by M. Mylonakis
15 HPS: The 2007 Annual General Assembly
17 HPS: Assets as of 31.12.2006
18 HPS: 2006 Balance Sheet
19 Literature for the Dodecanese, by M. Petradakis
20 World Basketball Championship: Special album and new personal stamp
21 Philatelic news
24 Air-dropped propaganda leaflets, by S. Bosovitch (3/18)
33 HPS: 2007 Philatelic forum
34 Concise tables of regular correspondence postal rates and supplementary rates from 1.10.1861 to 1.1.2001, by J. Daes (3/4)
42 Thematic Philatelist's corner: The choice of thematic material, by P. Leoussis
44 The Steamship connection of Trieste with Piraeus, by A. Virvilis
59 Letters to Philotelia: (a) The 40lepta in number 641 (b) The 2005 Hellenic Philatelic Society Medal, (c) The 2006 Hellenic Philatelic Society Medal