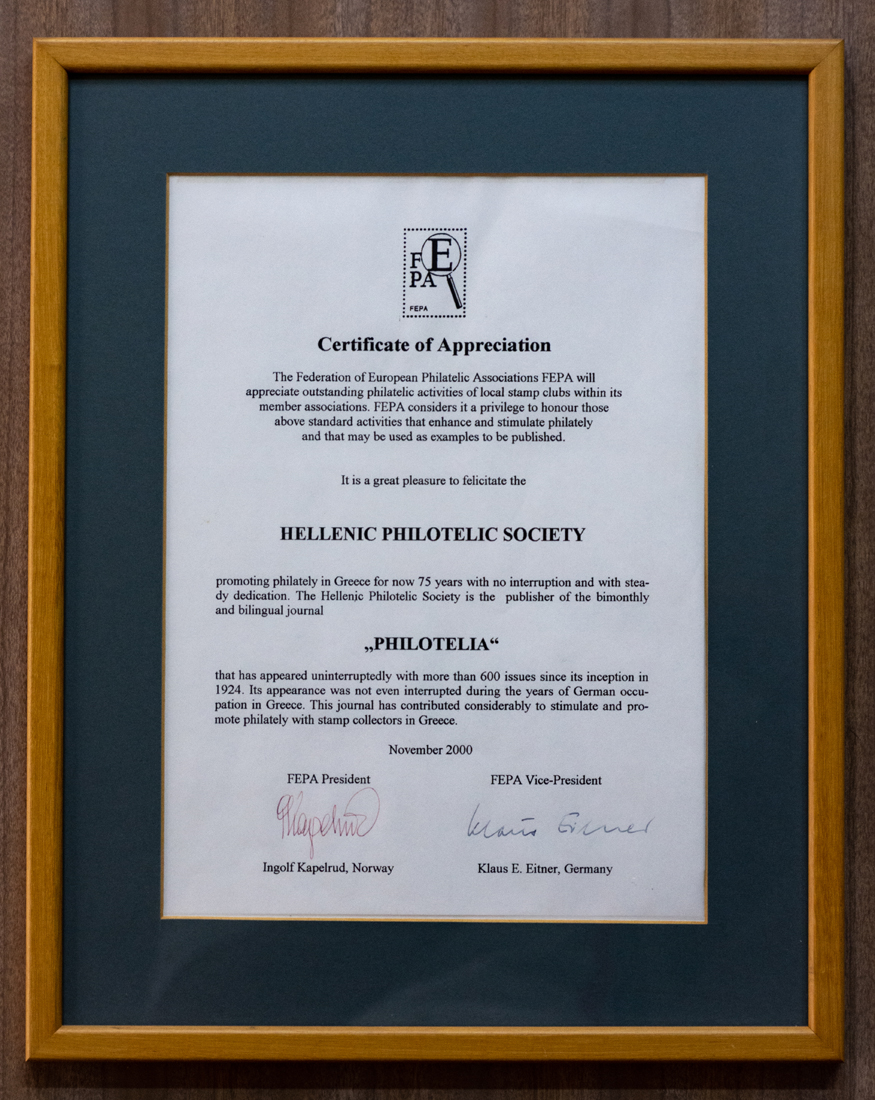 In November 2000, the Board of the Federation of European Philatelic Associations (FEPA) decided on a unanimous vote to award the Hellenic Philatelic Society with the Certificate of Appreciation for the 75 years of the Society's activities and the uninterrupted publication of "Philotelia" journal.
FEPA was founded in 1988 and today is the representative body of more than 40 national federations in Europe and North Africa. It is the third Continental Federation that was formed, after FIAF (America) and FIAP (Asia).
FEPA has established the Certificate of Appreciation in 1999. To the day the HPS was honoured, it had also been awarded to the following organisations:
1999 – Philatelic Federation of Switzerland
1999 – Philatelic Society of Zdar (Czech Republic)
2000 – Philatelic Society BriefmarkenFreunde Dusseldorf (Germany)
♦♦♦
Certificate of Appreciation
The Federation of European Philatelic Associations FEPA will appreciate outstanding philatelic activities
of local stamp clubs within its member associations.
FEPA considers it a privilege to honour those above standard activities
that enhance and stimulate philately and that may be used as examples to be published.
It is a great pleasure to felicitate the
HELLENIC PHILOTELIC SOCIETY
promoting philately in Greece for now 75 years with no interruption and with steady dedication.
The Hellenic Philotelic Society is the publisher of the bimonthly and bilingual journal
"PHILOTELIA"
that has appeared uninterruptedly with more than 600 issues since its inception in 1924.
Its appearance was not even interrupted during the years of German occupation in Greece.
This journal has contributed considerably to stimulate and promote philately with stamp collectors in Greece.
November 2000
FEPA President
Ingolf Kapelrud, Norway
FEPA Vice-President
Klaus E. Eitner, Germany