PHILOTELIA Vol. 91 (2014)
The bimonthly HPS journal is distributed gratis to the members of the Society
---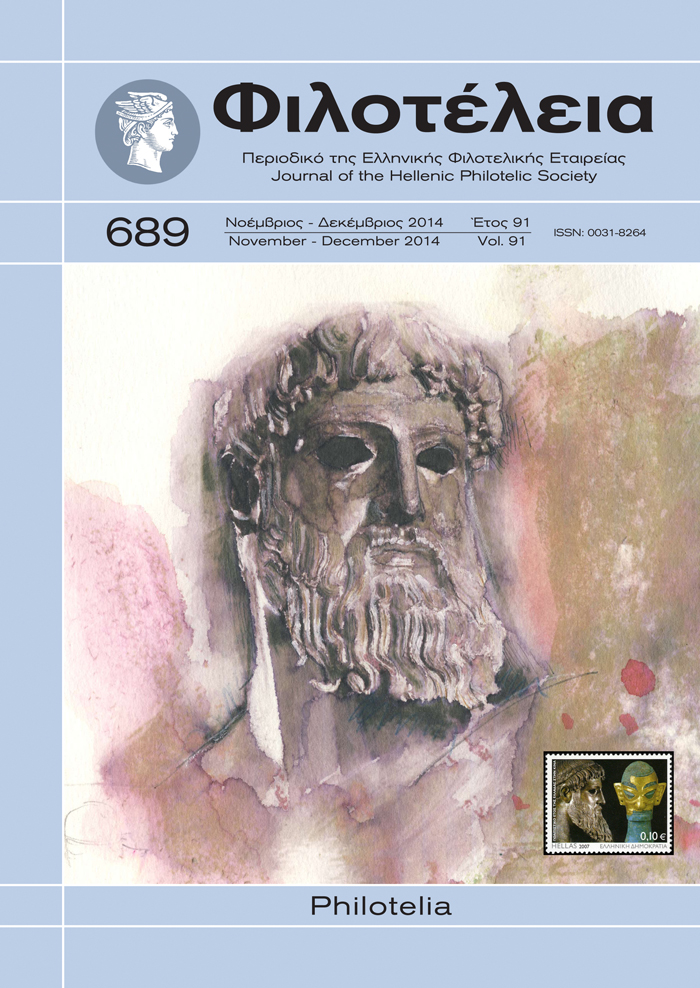 NOVEMBER – DECEMBER 2014
Editorial: Reprint no. 61
324 Presentations and open discussions in the HPS premises
325 The Hellenic Philatelic Society Medal
326 Observations on 20 lepta stamps of the large Hermes heads, by K. Papathanassiou
330 "NOTOS 2015" International Philatelic Exhibition (Newsletter no. 3)
335 The Stephanos Macrymichalos Award 2014
336 New books: J. Daes, The Ionian postal rates (1800-64), by N. Mallouchos
338 Trans-Pacific airmail between Greece and the USA in 1941, by A. Ritoridis (5/5)
351 Letters to Philotelia: The 2014 Hellenic Philatelic Society Medal
352 Philatelic news
354 The auctioning of an outstanding LHH collection, by S. Calliga (2/2)
359 Kalamos and Kalamos – Parallel stories, by J. Peristanglou
362 HPS – New members
363 Cyprus philatelic news
364 Volume 2014 index
369 New issues: (a) Children's Christmas, (b) Memorable advertisements
371 A different exhibition, by A.V.
374 The National Russian Philatelic Academy, by A. Strygin, I. Rodin
376 An error is born, by G. Thomareis
378 Commemorative cancellations of 2014, Slogan cancellations of 2014
380 Two 1900 overprints errors, by M. Tsipidis
381 Tassos birth centenary, by C.C.
382 Philatelic and Postal Museum Directorate
---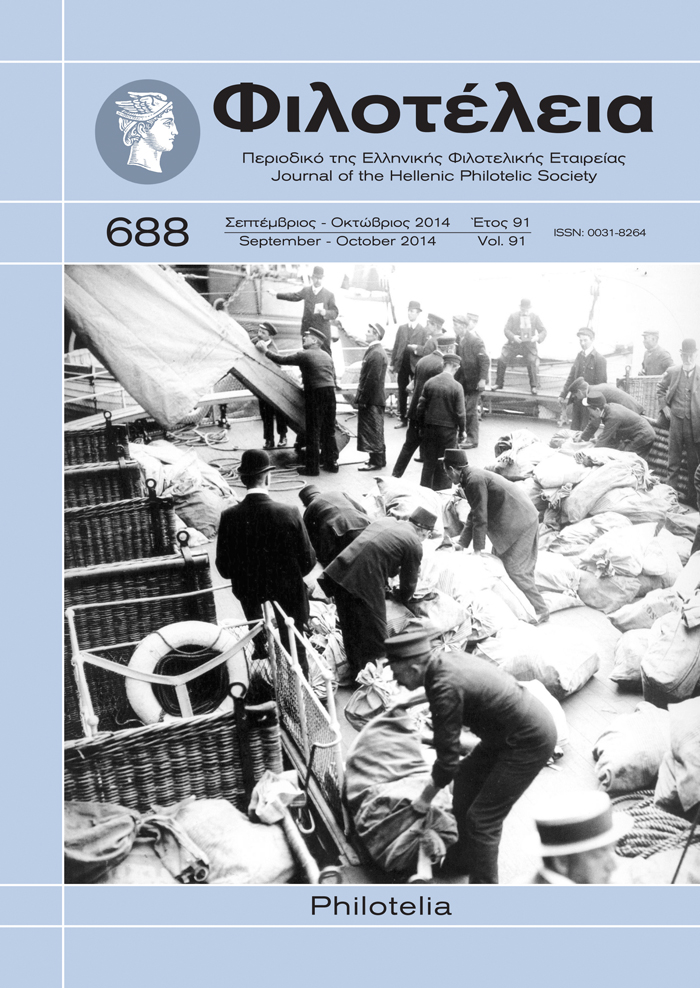 SEPTEMBER – OCTOBER 2014
Editorial: The Asimakopulos' collection
260 "NOTOS 2015" International Philatelic Exhibition (Newsletter no. 2)
262 The auctioning of an outstanding LHH collection, by S. Calliga (1/2)
269 "NOTOS 2015" First period
270 Trans-Pacific airmail between Greece and the USA in 1941, by A. Ritoridis (4/5)
283 Philatelic exhibition "Cyprus-Greece 2014", by A. Nikolaidis
287 Philatelic news
289 Ocean liners and emigration, by G. Sparis
298 FEPA Congress 2014, by C.C.
301 The Dutch Philatelic Academy, by C. Janssen
303 Liberation: Unrecorded postal cards, by A. Galinos
315 Postzegelvereniging Griekenland in Postex, by R. Verberne
316 New issues: (a) Tourist issue, (b) El Greco, (c) Contemporary Greek literary personalities
318 Presentations and open discussions in the HPS premises
319 Cyprus philatelic news
---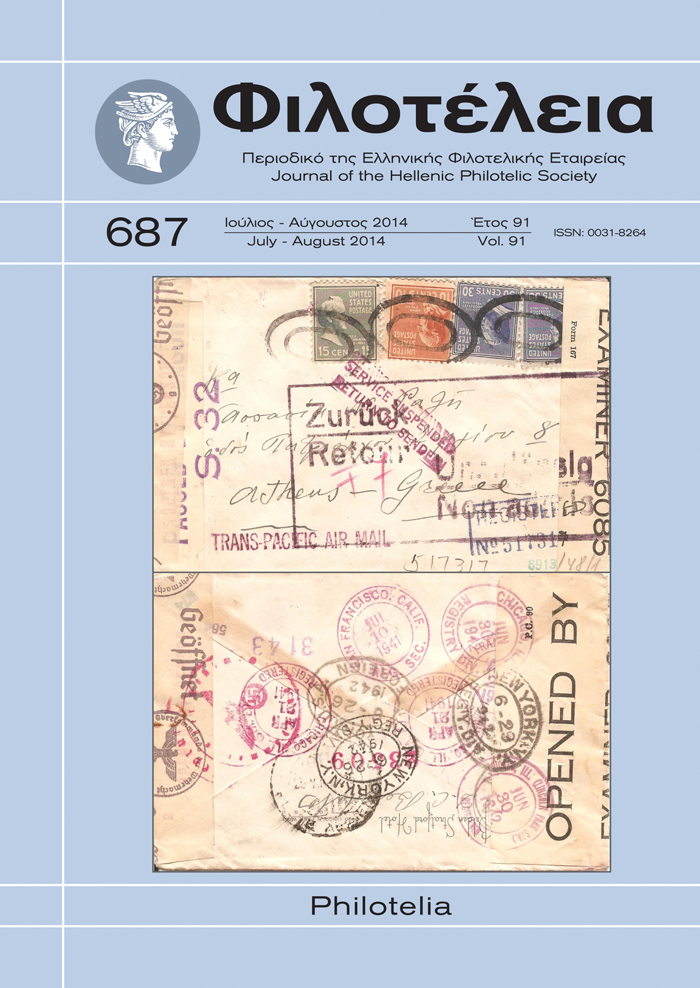 JULY – AUGUST 2014
Editorial: The ten year …itch
196 "NOTOS 2015" International Philatelic Exhibition (Newsletter no. 1)
198 New issues: Euromed Postal 2014
199 The setting and printing of Tughra stamps – An overview, by M. Başaran (2/2)
209 Football heroes (a postal card's tale), by I. Chalvatzidopoulos
211 Naval Air Force Mail – Asia Minor Campaign 1919-1922, by M. M. Sfantsikopoulos
217 Odessaphilex, by C.C.
218 The Polish Philatelic Academy, by Prof. Zygmunt Wiatrowski
222 Philatelic news
225 Theodore E. Papaeliou, by A.V.
229 Trans-Pacific airmail between Greece and the USA in 1941, by A. Ritoridis (3/5)
240 The large Hermes head dies – Do the intermediate dies exist and how many? by N. Asimakopulos
243 International exhibition Planète Timbres 2014, by P. Leoussis
247 An old philatelic periodical and a final die-proof of the large Hermes heads, by A. Papadopoulos
250 Special commemorative cachets, by A. Kambourakis
255 Cyprus philatelic news
---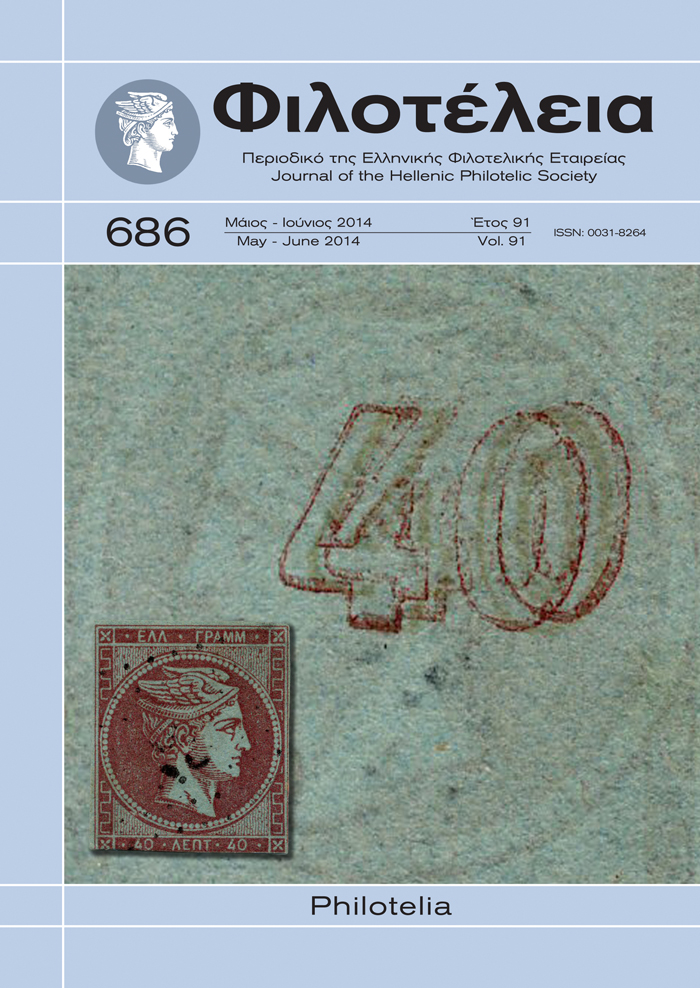 MAY – JUNE 2014
Editorial: To the rhythm of the candle flames
132 ΕΛΛΗΝΙΚΗ ΔΙΟΙΚΗΣΙΣ – the Σ50 error, by M. Tsipidis
134 The setting and printing of Tughra stamps – An overview, by M. Başaran (1/2)
144 1871-76 issue 40 lepta with triple CN in two shades, by S. Andreadis
146 The Royal Spanish Academy of Philately, by D. J. S. Prats
148 Letter franked with 20 lepta 1861 first Athens printing without CN, by K. Papathanassiou
150 Balkanfila 2014, by A. Galinos
152 The Tserista type V postmark, by J. Peristanoglou
153 Foreign travellers and posts in the 19th c., by A. Virvilis (2/2)
160 Philatelic news
162 New issues: (a) Europa 2014, (b) Bicycle, (c) 2014 FIFA World Cup Brazil
164 The assignment of the Philatelic Museum to the Ministry by the Hellenic Post
166 Theodore K. Galanis, by I. Chalvatzidopoulos
167 Forty years of democracy in Southern Europe, by C.C.
168 Presentations and open discussions in the HPS premises
169 Trans-Pacific airmail between Greece and the USA in 1941, by A. Ritoridis (2/5)
182 Postal & Philatelic Museum – The celebration of the International Museum Day 2014, by A. Manoloudis
183 The Serbs in Corfu during WWI, by G. Sotiropoulos (2/2)
---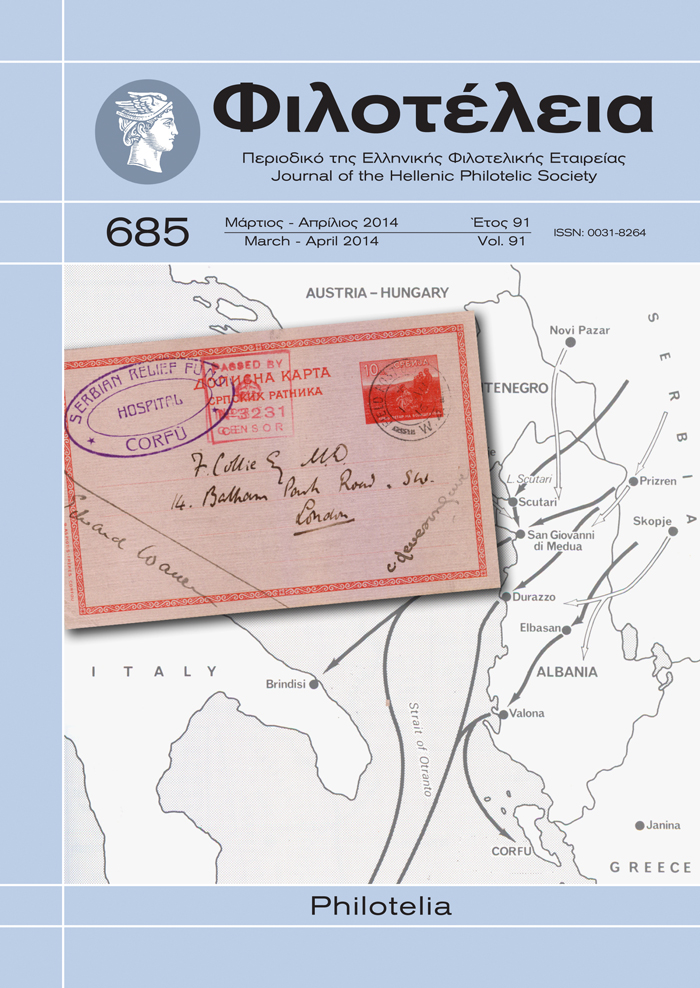 MARCH – APRIL 2014
Editorial: A tribute well deserved
68 Zante error no. 22, by L. Fanchini
69 The Serbs in Corfu during WWI, by G. Sotiropoulos (1/2)
76 Trans-Pacific airmail between Greece and the USA in 1941, by A. Ritoridis (1/5)
85 The Hellenic Post (ELTA) honours the 1942 general strike
86 The Belgian Philatelic Academy, by P. Maselis RDP
90 New issues: (a) Songbirds, (b) The twelve months in folk art
93 Foreign travellers and posts in the 19th c., by A. Virvilis (1/2)
100 Airmail in Africa during the 1930s, by C. Chazapis (4/4)
110 Presentations and open discussions in the HPS premises
111 LHH: The function of the decoupage, the 'recessed clichés' plate errors and the rare 2 lepta 1871-76, by S. Calliga
124 Large Hermes heads observations, by G. Arvanitidis
125 Combination of errors on CN, by V. Tsipidis
126 Philatelic news
---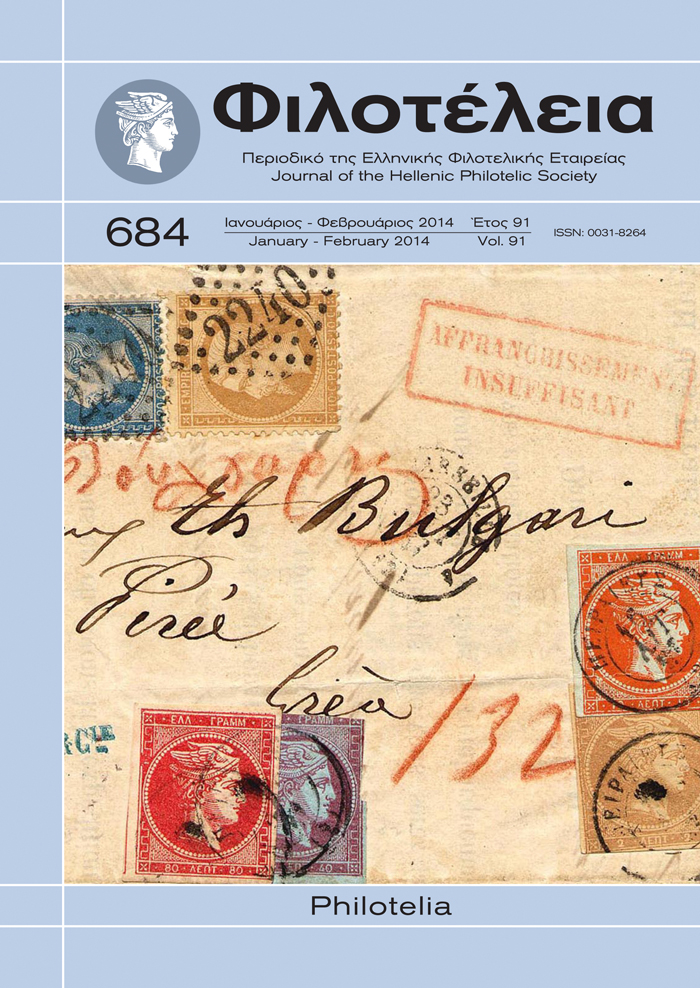 JANUARY – FEBRUARY 2014
Editorial: Forbidden stamps
4 Provisional 20 lepta without CN with lozenge "22" of Agoulinitsa, by S. Andreadis
6 Insufficiently prepaid mail from France to Greece, 1.10.1861-31.12.1875, by M. Chauvet RDP
18 John G. Coundouros, by S. Calliga
20 A 1927 Views 40 lepta variety, by J. Daes
22 Académie de Philatélie, by R. Abensur
23 Hermes Club – 31.12.2013
24 Airmail in Africa during the 1930s, by C. Chazapis (3/4)
33 HPS – The 2014 Annual General Assembly
39 Dr. Thebussem – An emblematic personality of Spanish philately, by J. R. Moreno
42 New issues: (a) Greek Presidency of the Council of the EU, (b) Anniversaries-Events
44 Philatelic news
47 The 4×100 printing plates of the 1912 Lithographic issue. A myth or a fact? by A. Manoloudis
57 Red-carmine overprint on postage dues, by M. Tsipidis
58 Presentations and open discussions in the HPS premises
59 Rarities or not? by N. Asimakopulos
63 New books: G. Coutant, La Grèce, by C.C.