PHILOTELIA Vol. 93 (2016)
The bimonthly HPS journal is distributed gratis to the members of the Society
---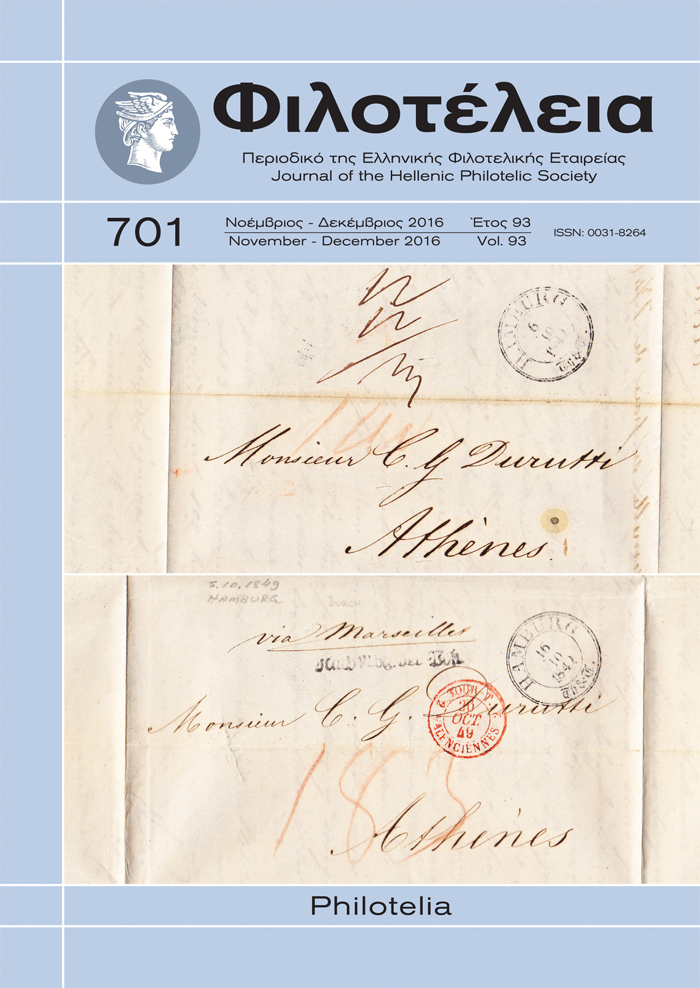 NOVEMBER – DECEMBER 2016
Editorial: Rebranding philately
324 The Stephanos Macrymichalos Award 2016
325 The Hellenic Philatelic Society Medal and letters to Philotelia
327 Unusual cancellations of postage stamps, by A. Galinos
334 Labels and handstamps of returned mail (form1031), by N. Mallouchos
339 New issues: (a) 120th anniversary of authentic Marathon (b) 50th anniversary of Greek television, (c) Blooming herbs of the Greek land
341 HPS – New members
342 The break of the first wavy line of the large Hermes heads revisited and some unanswered questions, by N. Asimakopulos
348 Philatelic news
350 Commemorative cancellations of 2016
353 79 years Philatelic Society of Athens, by V. Apostolopoulos
354 Twin letters, by W. Bauer
361 Volume 2016 index
367 Greek mail damaged in train fire (1963), by A. Ritoridis
370 HPS – Presentations and open discussions in the HPS premises
371 Cyprus philatelic news
374 The National Schism and its impact on the postal service, by M. Mylonakis (3/9)
383 L'ADPhile, by C. Desarmenien
---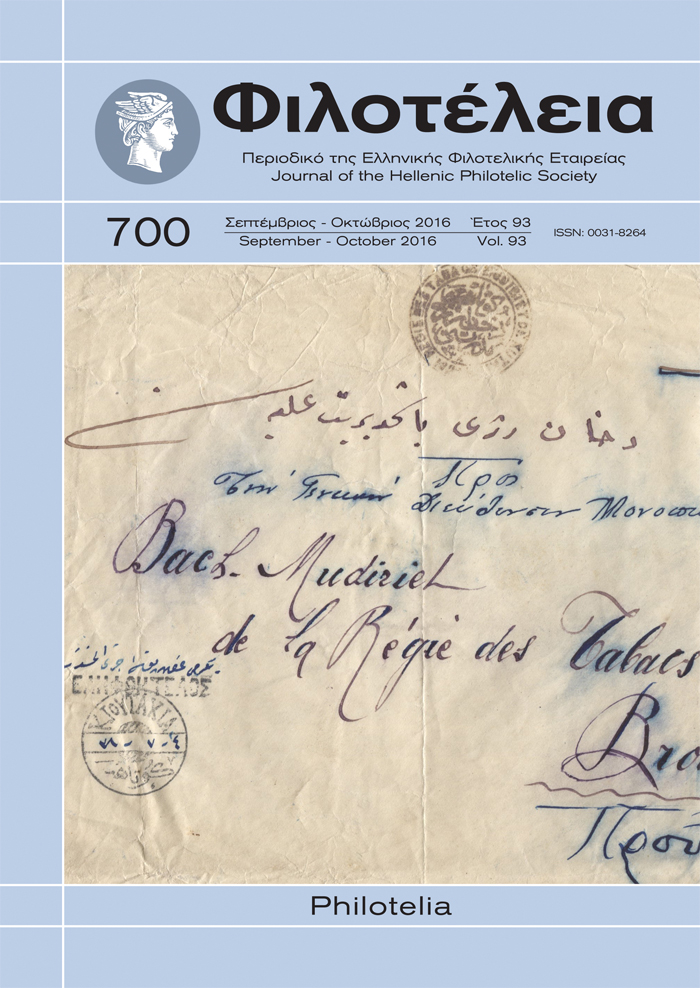 SEPTEMBER – OCTOBER 2016
Editorial: Maxi-Thema 2016
260 Zante Error no. XXIII, by K. Papathanassiou
262 The National Schism and its impact on the postal service, by M. Mylonakis (2/9)
272 The post office of St. George lazaret, by A. Virvilis
277 Maxi-Thema 2016 exhibition, by V. Apostolopoulos
280 Texts on Epirus postal history, by G. Ploumidis
289 Postal services beyond the Sèvres Zone (Asia Minor Campaign 1919-1922), by M. M. Sfantsikopoulos (2/2)
297 Letters to Philotelia: From Rio de Janeiro to Syros in 1848
298 Suspension of postal services to Crimea and Libya, by N. Mallouchos
300 Philatelic news
303 The Athens Railway Station p.o. cancellations, by D. Varelas
311 Honouring personalities in the U.S. (1940), by C. Chazapis
317 Polovitsa, Lakonia, by M. Koutsounakis
318 Bephila, by V. Verhelst
319 New issues: (a) 300th anniversary of the Siege of Corfu (b) 2016 – Year of Greece in Russia (Personalised stamps)
---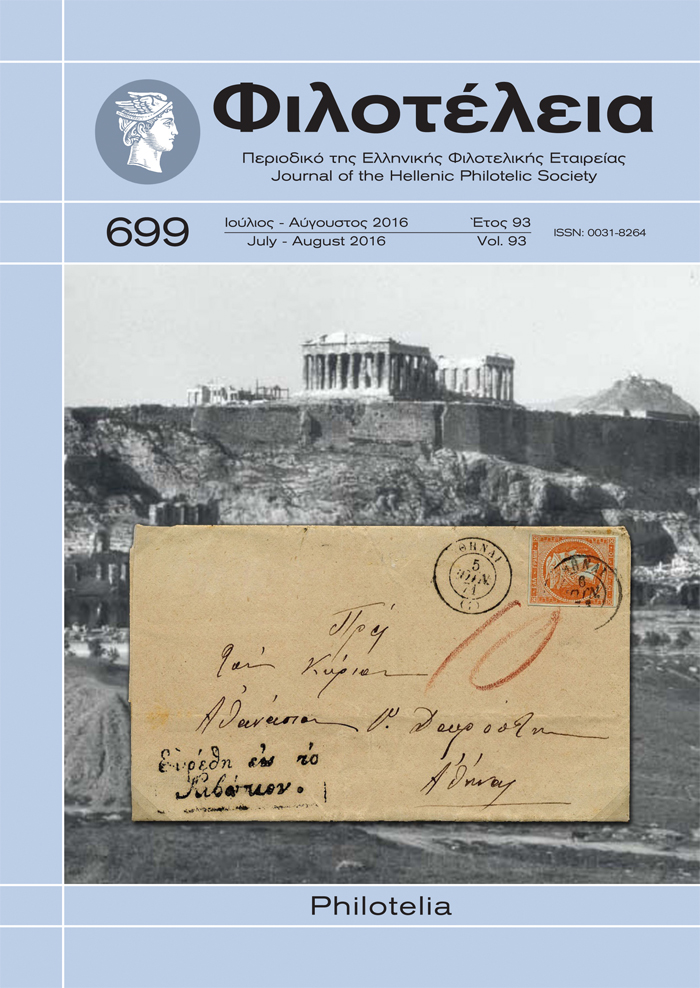 JULY – AUGUST 2016
Editorial: Living personalities (II)
196 New issues: (a) Members of the Lambrakis Movement, (b) Euromed 2016, (c) Rio 2016 Olympic Games, (d) Living personalities (ΙΙ)
199 Philatelic news
203 From Rio de Janeiro to Syros in 1848, by A. Papadopoulos
212 Found in the post box, by N. Mallouchos
218 The National Schism and its impact on the postal service, by M. Mylonakis (1/9)
230 Philatelic Literature in international exhibitions, by W. Maassen RDP
233 Misspelled postmark ΙΣΘΙΜΙΑ, by J. Daes
234 The Ancient Epidavros post office, by C.C.
235 The European Academy of Philately, by B. Crevato-Selvaggi
238 Political refugees in Tashkent, by C. Chazapis
243 Postal services beyond the Sèvres Zone (Asia Minor Campaign 1919-1922), by M. M. Sfantsikopoulos (1/2)
254 New books: Michel catalogues, by C.C.
---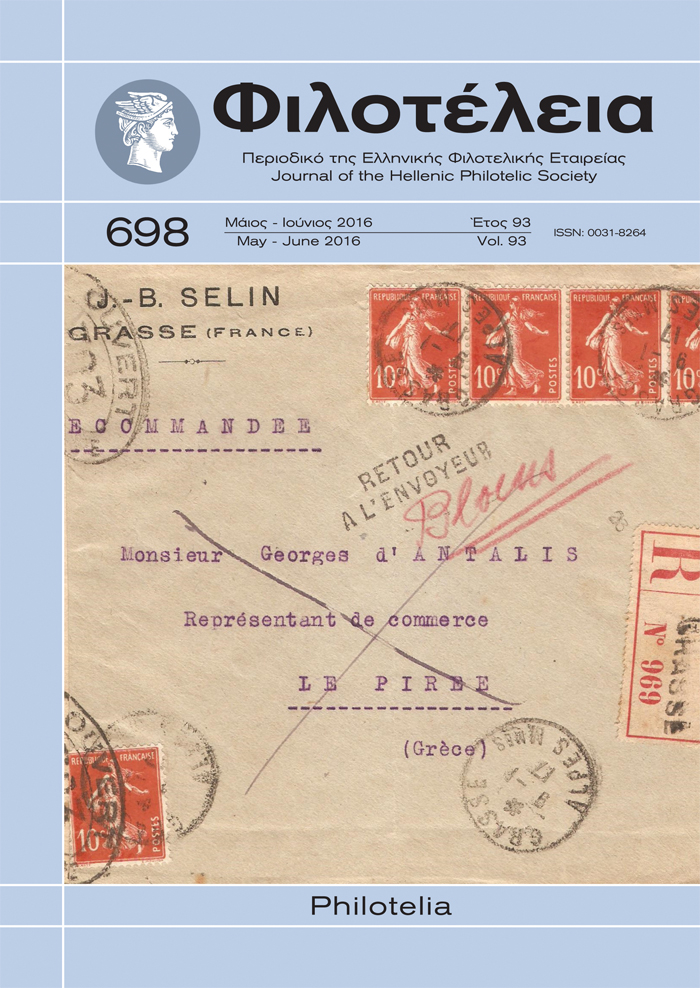 MAY – JUNE 2016
Editorial: New York 2016
132 The HPS Medal 2011-2015 awards ceremony, by C.C.
135 The Allied Blockade of Greece during WWI, by A. Ritoridis (3/3)
148 Balkanfila 2016, by P. Leoussis
151 New issues: (a) Europa 2016, (b) 2400th birth anniversary of Aristotle, (c) Ecumenical Patriarch Bartholomew, (d) Orthodox Church Council
154 "Tzeferemini station" a rare railway postmark, by D. Varelas
156 Special regulations and guidelines for the evaluation of the Picture Postcard Class, by B. King
161 World Stamp Show New York 2016, by G. Thomareis
166 The sinking of the French battleship Bouvet in the Dardanelles (II), by J. Voyatzis
168 New books: (a) P. Leoussis, Manual of Thematic Philately, by A.V., (b) G. Anomeritis, Sea and Shipping in Greek philately, by N. Mallouchos, (c) M. Vardopoulou, Greek stamps 1861-1961, History, Ideology, Aesthetics, by A.V.
172 Opened to be checked for invoice content, by N. Mallouchos
173 Historical and philatelic observations as a result of a 20 lepta first Athens printing without CN on cover cancelled in Agoulinitsa, by K. Papathanassiou
184 European exhibits in FIP exhibitions
186 Lubrapex 2016 and FEPA Congress, by A.V.
187 Fake or genuine? All factors accounted for…, by A. Galinos
190 Philatelic news
---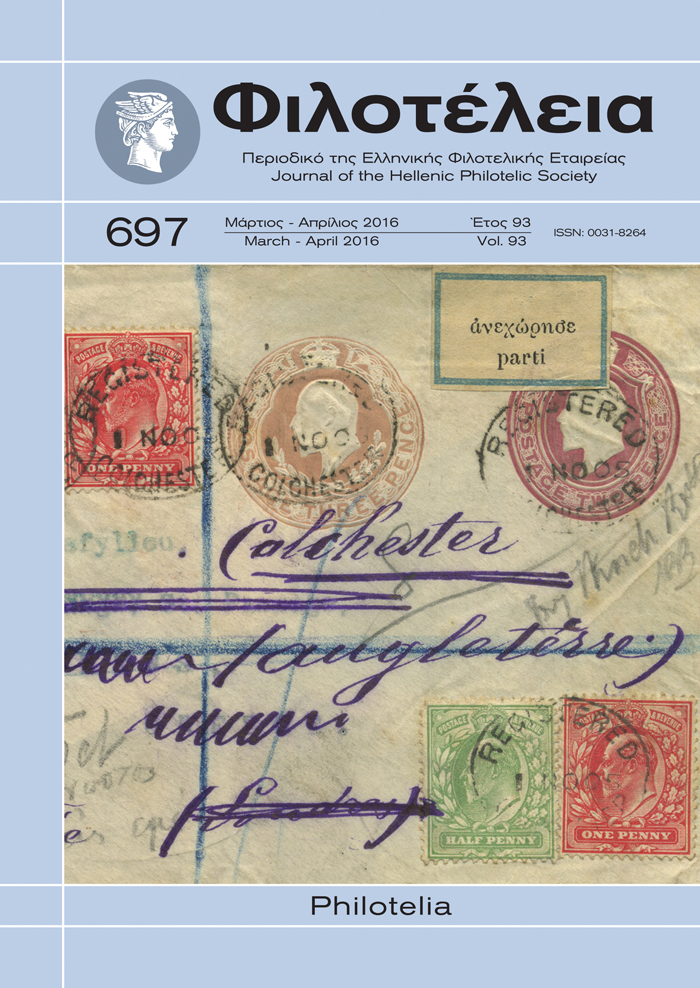 MARCH – APRIL 2016
Editorial: The postcards class
68 1927-35 Landscapes errors, by A. Christou
70 The HPS Medal
72 The DOLIANA Type IV postmark, by D. Iskos
73 Greek Return-to-Sender labels (II), by A. Galinos
76 NOTOS 2015 – Happenings, by A.V.
82 Concise tables of the Austrian postal rates (1808-1875), by J. Daes
92 Italian Academy of Philately and Postal History, by F. Filanci
96 Honorary distinction to George Dolianitis, by I. Chalvatzidopoulos
97 Philatelic news
101 Mail officially sealed, by N. Mallouchos
109 The Allied Blockade of Greece during WWI, by A. Ritoridis (2/3)
122 Presentations and open discussions in the HPS premises
123 New issues: (a) National Bank of Greece 175th anniversary, (b) 2016 – Year of Greece in Russia, (c) Labour movement
126 New books: Michel catalogues, by C.C.
---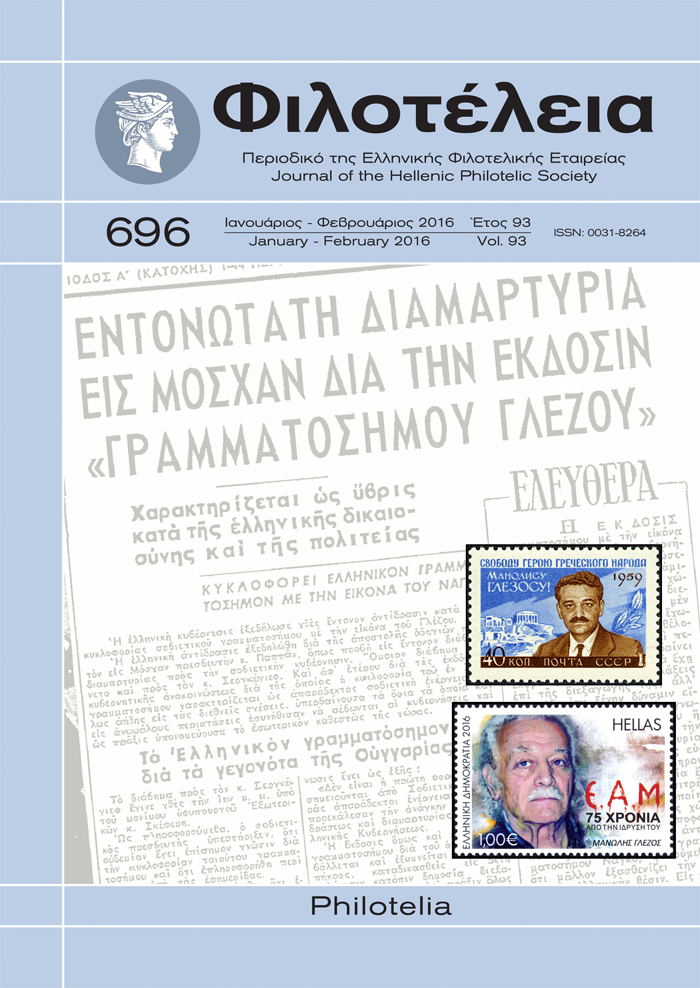 JANUARY – FEBRUARY 2016
Editorial: Farewell my friend
4 George Sparis, by C.C.
8 The Babas p.o. in the 19th century – An unusual case, by J. Peristanoglou
9 Slogan cancellations of 2015
10 Philatelic news
12 New issues: Greece-Israel 25 years of diplomatic relations
13 New books: S. A. Calliga, The 20 lepta Large Hermes Head stamps of Greece – From legend to objective classification, by K. Papathanassiou
17 Concilium Philateliae Helveticae, by G. Balimann
21 HPS: (a) The 2016 Annual General Assembly, (b) 2015 balance sheets, (c) Financial status (31.12.2015), (d) Hermes Club (13.1.2016)
26 The Hellenic Philatelic Society is grateful (p.20)
27 Cyprus philatelic news
29 Commemorative cancellations of 2015
32 A. Virvilis: FEPA Medal 2014, by C.C.
34 The Allied Blockade of Greece during WWI, by A. Ritoridis (1/3)
46 Greek-Soviet Cold War disputes, by C. Chazapis
59 New issues: Anniversaries – Events(I): EAM 75th anniversary
60 A peace mission of the G. Averof battleship, by A. N. Kambourakis