PHILOTELIA Vol. 100 (2023)
The bimonthly HPS journal is distributed gratis to the members of the Society
---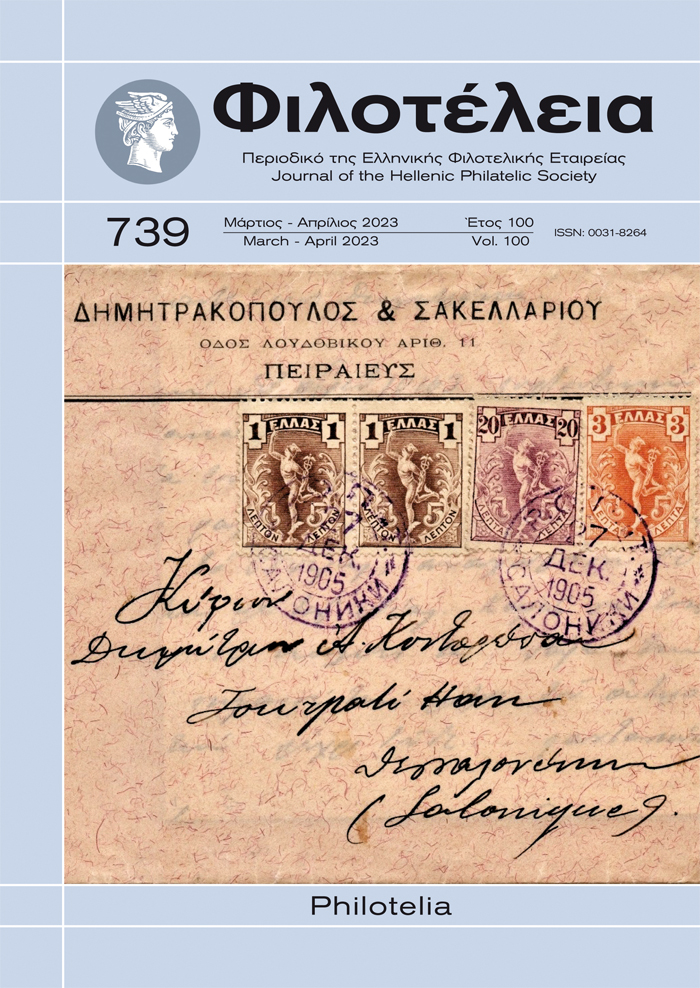 MARCH – APRIL 2023
Editorial: An interesting interview
68 Poste par Avion en Orient: The unknown flights Thessaloniki-Athens and back, by A. Galinos
75 Le Timbrophile Athénien, by M. Koutsounakis
78 Several mysteries of Thessaloniki Russian Post, by G. Thomareis
87 Paper and printing varieties of the early printings of the 2 lepta Large Hermes Heads, by D. Papitsis
93 Saint Catherine of Sinai: A 1751 seal – The first postal handstamp from Asia, by Y. Dimitriadis
97 Autonomous Cretan State: 'Small ΕΛΛΑΣ' overprint Varieties (1908), by K. Choudalakis
99 Education revenue stamps, by E. Fysikas
106 Mailbox stories, by E. Georgoudakis
111 New issues: World Stray Animals Day
112 Transit censorships of the Vienna Censorship Office during World War II, by A. Savopoulos
123 19th century prince's cover, by N. Rasias
125 Philatelic news
---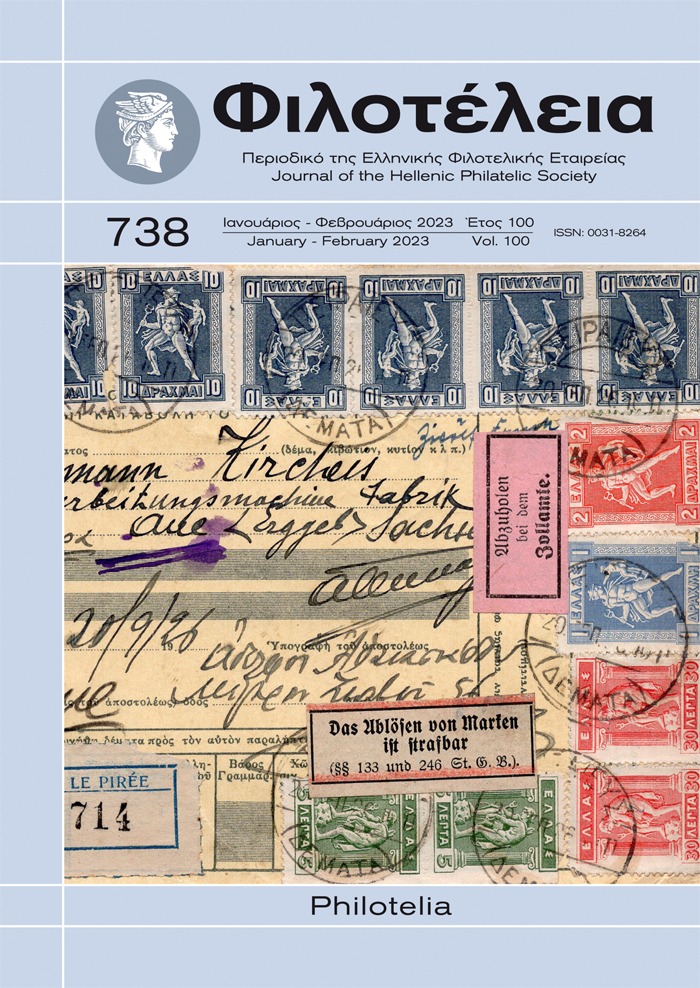 JANUARY – FEBRUARY 2023
Editorial: Our right to optimism?
4 New issues: (a) Sustainable Development, (b) Child and Stamp – Child and Technology
6 Philatelic news from Cyprus
7 Postage stamp: timeless courier of symbolism and messages, by C.C.
10 The origin and the end of a postal riddle, by M. Mylonakis
22 HPS: (a) The 2023 Annual General Assembly, (b) 2022 Balance sheets, (c) Financial status (31.12.2022)
26 Thanassis Tarassouleas, by C. Tarassouleas
29 Mariners' Anti-tuberculosis Fund revenue stamps, by E. Fysikas
31 Philatelic news
34 On the occasion of the 1926 Vienna Issue, by A. Manoloudis
50 Commemorative cancellations of 2022
52 The eternal struggle of light with darkness – A philatelic perspective, by C. Gikas
54 Greek surname on rural handstamps of Egypt, by A. Galinos
62 New books: Michel catalogues, by C.C.