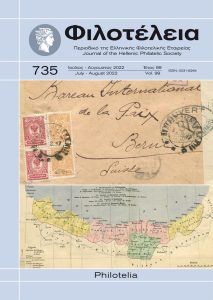 It was six months ago when this column referred to the activities of the Hellenic Philatelic Federation, on the occasion of the launch of its website, the uploading of the first digital exhibits, its intention to update the regulations for national exhibitions, the involvement of the Federation with the social networks etc. Since then, the regulations were completed and uploaded, along with the prerequisites for prospective apprentice jurors and national commissioners and an interesting initiative to establish a philatelic historical archive. During the same period, the number of digital exhibits was increased, the first philatelic book was uploaded and the home page of the federation's website was continuously updated with news from its member-societies or other sources.
For the first time in its long history, in September and October, the Federation will offer a series of eighteen seminars, on the subject of exhibitions, the set-up of exhibits, exhibit evaluation etc. Details are included on page 246 of the current issue. The seminars are addressed to everyone and are perfectly timed, given the big philatelic event of the year which will take place next November, the national exhibition in Agrinio under the patronage of the Federation.
The Federation needs the cooperation of all its member-societies and even more the cooperation of each of us individually. After all, who is not going to benefit from an active and strong Federation?